We're proud to be a new retailer for A Maker's Studio by Amy Howard, which is a comprehensive line of quality, versatile products that provide beautiful, professional results for your DIY crafting projects. Customize and personalize furniture, decor, linens and other fabrics, and much more. The possibilities are endless.
Our current selections from this exciting product line include the following: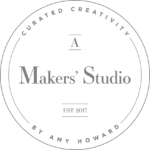 Mesh Stencils – You'll love the incredible silk-screen detail.
Create beautiful stenciled words and imagery for any occasion!
Use over and over again on almost any surface and with paints,  gel inks,  ChalkArt and more.
New and improved design features stronger adhesive, easier cleaning, and simpler transfer between different surfaces.Mesh Stencils – A Maker's Studio stencils are patented Tri Mesh adhesive stencils can be combined with a variety of surfaces to create endlessly customized DIY home décor.
Glass Etching Cream -A Makers' Studio Glass Etching Cream creates beautiful, custom detailing on any glass surface.
Easily create unique details for your drink ware, mirrors, serving trays, and more with one simple application.
Your glass etchings are permanent and washable… the possibilities are endless.
Pair with our patented stencils to make truly wow-worthy designs… no one would know it was DIY!
Pigment Powders – A Makers' Studio Pigment Powder pairs with our Soy Wax and Venetian Plaster to make beautiful DIY décor and refinished furniture.
Venetian Plaster – A Makers' Studio Venetian Plaster is a uniquely versatile material used to create highly textured décor and furniture finishes. Made of calcium carbonate, lime and marble dust.
Soy Wax – A Makers' Studio non-toxic Soy Wax makes it easy to create your own encaustic artwork and experiment with other projects. Pair Soy Wax with A Makers' Studio Pigment Powders to create textured encaustic wall art, and more.
Gel Art Ink – A Makers' Studio Gel Art Ink lays rich, permanent color on fabrics, linens, apparel, upholstery, and most soft surfaces.
Mesh Stencils Mesh Stencils Glass etching Cream Etching project example Etching project sample Venetian Plaster Venetian Plaster sample Venetian Plaster sample Venetian Plaster Sample Venetian Plaster sample Gel Art Inks Gel Ink sample Encaustic Wax – mixed media project sample